At the end of January, IT'IS, together with the partner SPEAG, hosted the second SEAWave consortium meeting in Zurich to discuss progress and define the next steps.
Full house at our two buildings for the second SEAWave partner consortium meeting: nearly 40 members gathered at our headquarters in Zurich on January 30 and 31 to discuss project updates and coordinate the next steps of each work package.
SEAWave is co-funded by the HORIZON Research and Innovation Actions (Belgium) and the State Secretariat for Education, Research, and Innovation (SERI, Switzerland). In the three-year project, the consortium of 15 international partners aims to fill seven major knowledge gaps related to 5G exposure and provide the means to effectively communicate health risks and disseminate findings to stakeholders. Specifically, the topics that will be addressed are (i) 5G vs. 2G-4G Networks, (ii) New 5G Local Networks in Workplaces, (iii) 5G MaMIMO Base Stations, (iv) Dosimetry in the Human Skin, (v) Health Risk Studies, (vi) Assessment of End User Devices and (vii) Citizens´ Perceived Exposure.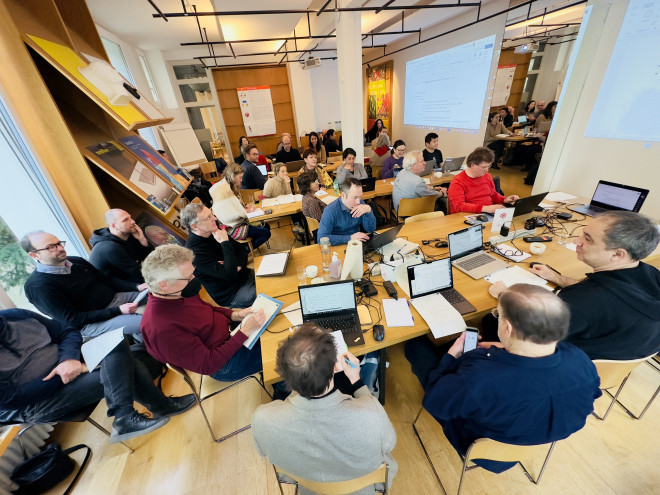 Plenary session chaired by Prof. Theodoros Samaras.
The meeting included parallel sessions dedicated to specific topics or work packages. This division maximized the discussions and allowed the participants to go into details regarding the results achieved and the challenges to be overcome. At the end of the consortium meeting, a plenary session was held with all members, chaired by Prof. Theodoros Samaras, the project coordinator. Prof. Samaras highlighted the project progress, discussed the next tasks, current delays and risks, and proposed adjustments in the deliverables timeline.
During the meeting, the contribution of the SEAWave consortium to the Horizon Europe Cluster on Electromagnetic Fields (EMF) and Health (CLUE-H) was also discussed. The CLUE-H network is composed of four research consortia, ETAIN, GOLIAT, NextGEM, and SEAWave, and includes expertise from more than 70 European research institutions, with additional contributions from scientists in the United States, South Korea, and Japan. The Cluster aims to find synergies between the four different EMF projects, facilitate dissemination and communication, and promote workshops and trainings.
Overall, the two-day meeting was a success, aided by the glorious winter sunshine. Participants left Zurich with strengthened collaborations and look forward to the next meeting of the consortium, which will be held in Paris this summer.