The progress of the first 12 months of the project SEAWave – short for Scientific-based Exposure and risk Assessment of radiofrequency and mm-Wave systems from children to elderly (5G and Beyond) – was discussed at the third consortium meeting in Paris, France, in early July.
The SEAWave consortium met on July 3 – 4, 2023, at the headquarters of the French Agence nationale des fréquences (ANFR) in Paris, France, to discuss the progress made during the first 12 months of the project. The packed two-day program included discussions on all work packages (WP) and a plenary session. Each WP leader presented the status of their tasks and deliverables and discussed delay issues and next steps. The IT'IS Foundation presented an update on the developments in instrumentation and measurement techniques for milimeter (mm-) wave absorbed power density measurements and exposure systems being developed for health risk assessment of 5G mm-wave signals for in vivo, in vitro, and human provocation studies.
It was a very productive meeting, allowing members to again closely align the consortium's objectives, create new momentum, and discuss how to best move the research activities forward. The next meeting will be organized in February 2024 in Rome, Italy, hosted by our partner the Italian National Agency for New Technologies, Energy and Sustainable Economic Development (ENEA).
SEAWave is co-funded by the HORIZON Research and Innovation Actions (Belgium) and the State Secretariat for Education, Research, and Innovation (SERI, Switzerland).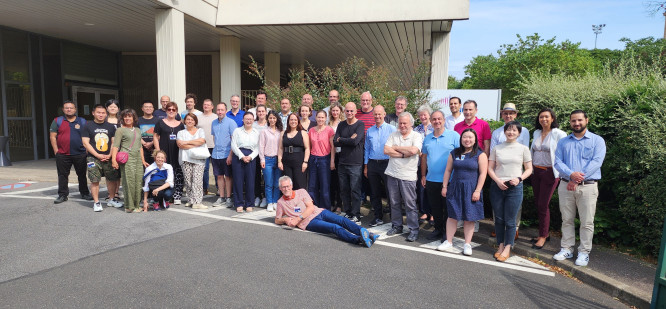 Members of the SEAWave Consortium at the third Consortium Meeting at ANFR Paris, France.