Update Release of Male Pig Computational Model V1.1
The IT'IS Foundation is proud to unveil the Male Pig V1.1. The model is an updated version of the original model, first released in 2012. The new model is compatible with ZMT Zurich MedTech AG's Sim4Life's poser tool and allows users to modify the posture of the model to closely match experimental conditions.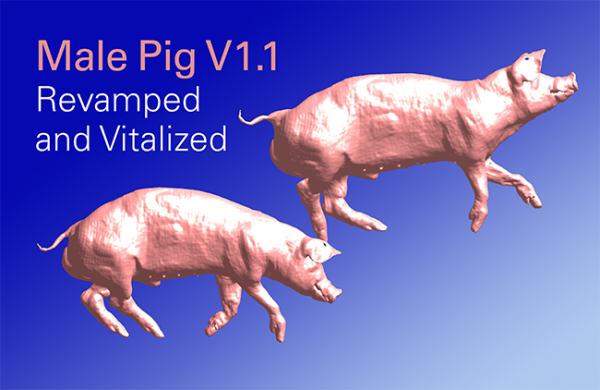 Originally funded by the MRI+ research consortium, the model was created to validate computational modeling of thermal tissue damages in magnetic resonance imaging (MRI). However, over the years, this model has been used by many research groups and provided valuable insights into MRI dosimetry.
The new Male Pig V1.1 model fixes several critical issues that were present in the previous version. Notable improvements include amending the segmentation of the spleen and rectifying the left/right naming of bones. Furthermore, the new version introduces various enhancements, such as improved heart and salivary gland segmentation, which ensures a more accurate representation of anatomical structures. Blood vessels have been intricately connected, and organs like the bladder and gallbladder have been separated into wall and lumen segments. Similarly, bones have been divided into cortical and cancellous segments, increasing the model's precision and usefulness for researchers.
This update release underscores the commitment of the IT'IS Foundation to providing high-quality computational models for a wide range of applications. It also reflects our commitment to continuously enhancing the fidelity of their ViZoo and Virtual Population libraries.
For more information, please contact us at virtualpopulation@itis.swiss.